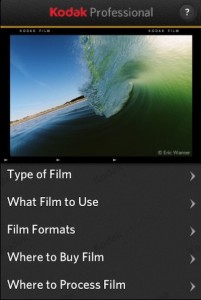 This past week the Eastman Kodak Company launched a new iPhone app simply called, "Kodak Professional Film". It's purpose is to assist photographers that continue to use film with the increasingly difficult task of finding it. Not too long ago, film was a ubiquitous material that could be purchased at any corner store but it has recently become a scarce commodity.  Kodak, after declaring bankruptcy in January of this year, dropped another bombshell in August by announcing they would be selling off their film business – a product line which has defined the company since it was established by George Eastman in the late nineteenth century.
The new App allows you to survey Kodak's current products list which doesn't take long because there are a total of 8 films: 4 black & white and 4 color. A quick bit of research revealed that Kodak listed 171 "still photographic films" in the early 1970's.  We can see in Robert Shanebrook's book that as recently as 2009 Kodak was still making 43 brands of film for still cameras. In less than three years their product line has decreased by over 80%.  Will this anemic list continue to shrink? I would say yes and predict the next to go are the color films which are being kept afloat by Kodak's motion picture division. Hollywood still buys billions of feet of film but Kodak has recently made an agreement with four major studios that ends film production by 2015.
This is all to say that I don't think the Kodak film app is going to do as well as say Instagram – an application that grew into a social networking phenomenon by simulating the look of all those Kodak films for viewing on an iPhone.